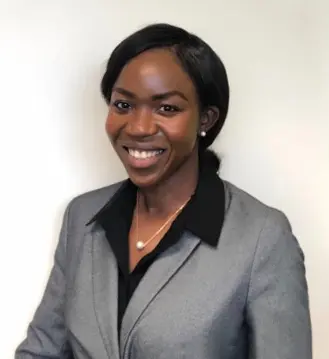 Ivonne Oladunni, MBA, CPMSM® lends her expertise and wisdom to Team Med Global as the organization's Payer Enrollment Director, helping to shape industry strategy, lead webinars, and contribute to TMG University courses and other educational initiatives. Over the past decade, Ivonne has excelled in positions that showcase her skill in payer enrollment, credentialing, compliance, program management, and recruitment. She is currently managing operations for more than 700 facilities nationwide that have a combined staff of over 4,500 clinicians.
The Lighter Side
In getting to know Ivonne, we discovered that she admires Michelle Obama, dreams of the Maldives, and has a special place in her heart for Tweety Bird.
When you're not at work, what's your favorite pastime?
Jumping on a group call with my siblings. I'm the second of five children and we are definitely very close. We love to recap our days and share a few laughs.
What makes your heart sing?
My children! They are definitely my pride and joy.
What's your dream vacation spot?
As cliche as this may sound….the Maldives! Isn't that everyone's dream vacation spot? The water looks so peaceful and I'd love to go to sleep and wake up overlooking the ocean.
What's something that most people don't know about you?
I used to play flag football in high school. Before an injury kept me from playing, I was one of the top players on the team.
Which living person would you most like the opportunity to meet?
Michelle Obama. To me she exemplifies strength, dignity and class.
What legacy do you want to leave the world?
That I am a person of integrity, and that I am a genuine and kind person who desires to impart a bit of happiness to everyone I meet.
What's your most treasured childhood possession that you still have?
A Tweety Bird blanket. One of my earliest memories is being in the store and buying that Tweety Bird blanket with my mother. It brought me great comfort throughout my childhood and now it brings my children comfort, too.
When was the last time you had a good belly laugh?
It had to have been a joke from Susan, one of my siblings. She never fails to give me a good belly laugh.