Develop Your Mastery
Showcase Your Knowledge
TMG University is a trailblazer in delivering cutting-edge online professional development to the Medical Staff Services community. Our course offerings are designed to encourage you to think outside of the box and rise to whatever professional challenges greet you.
Team Med Global's Executive MSP credential is the gold standard in MSP proficiency, opening doors and enabling you to fulfill your career potential. TMG recognizes and builds upon your professional experience, delivering tailored education designed to fill your knowledge gaps and develop a well-rounded skill set that allows you to excel in your current and future positions.
We understand that professional development is critical, yet can be costly and difficult to incorporate into a life already filled with commitments. That's why EMSP coursework is cost conscious and divided into modules designed to harmonize with work and life.
The MSP Core Course
The heart of the Executive MSP program is the Core Course. Offered as a self-paced video on-demand course, the Core Course teaches management principles and practices for credentialing, compliance, development, documents, mergers and acquisitions, onboarding and offboarding, relationships, and technology. It also delves into office and project management.
Pathway Courses
After completing the EMSP Core Course, you can choose one of four pathways that leads to an EMSP credential: Hospital (H-EMSP), Credentials Verification Organization (CVO-EMSP), Managed Care Organization (MCO-EMSP), or Practice Management (PM-EMSP). Each pathway incorporates four to six courses targeting its specific environment. Upon successful completion of one pathway's interactive online courses, you will be accorded the relevant EMSP Credential. If you achieve all four EMSP credentials, you will be accorded the ultimate MSP designation: the Certified EMSP, or CEMSP.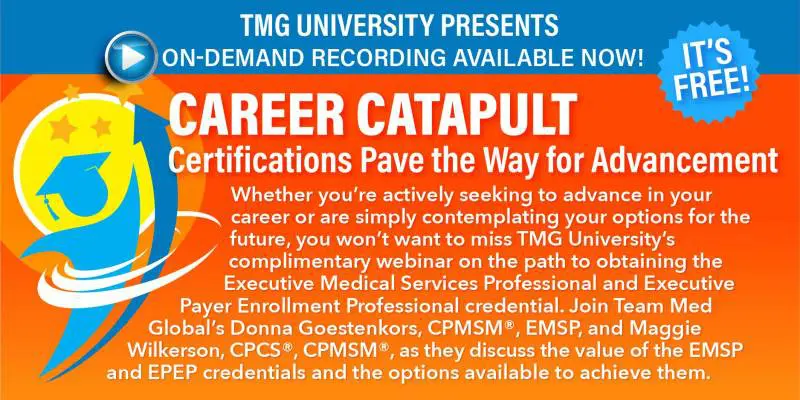 Executive Payer Enrollment Professional Credential
Team Med Global's Executive Payer Enrollment Professional credential is the first of its kind in the industry. Attaining your EPEP credential demonstrates your mastery of payer enrollment principles and practices in a variety of environments. Your credential will create new career opportunities and put you on a skills mastery and management track.
Professional development is crucial to the payer enrollment field, but it can be hard to squeeze continuing education into an already busy life. TMG has a solid track record of working with professionals to make education and certification affordable and accessible.
The EPEP Core Course
The essence of the EPEP coursework resides in the Core Course. Offered as a self-paced video on demand course, the Core Course introduces you to practitioner and specialty licensure. Critical payer enrollment resources are outlined, and students develop an action plan for understanding their organization's payer enrollment processes.
Course Series
After completing the Core Course, you are eligible for the next course in the series. The next four courses are Payers & Products, Risk Management & Legal Issues, Metrics & Workflows, and Advanced Topics. Once all five courses are completed, you sit for your EPEP certification examination.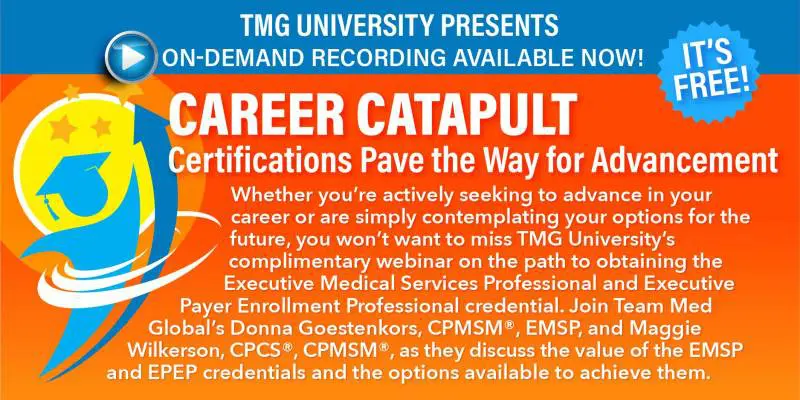 Certification Preparation
Certification matters. It signals that you have the skills and knowledge to excel in your chosen profession. Yet certification examinations are difficult, and sitting for them can be anxiety-provoking – especially if you don't feel prepared.
Team Med Global has a stellar track record in certification preparation, paving the way for you to achieve the designations you deserve. With comprehensive material review, test-taking strategy tips, and accessible instructors, you'll feel confident in your ability to achieve the certification you seek.
TMG Preparation Courses for National Association Medical Staff Services CPCS® or CPMSM® Certification
The CPCS® and CPMSM® exams are grueling, but with TMG's support you'll grind through them and achieve the credential that showcases your proficiency. Team Med Global's virtual live or on-demand National Association Medical Staff Services Certification preparation courses cover virtually every facet of the theory and practice of credentialing, including verification, licensure, and board certification. You'll gain greater competency in various functions, such as compliance, accreditation requirements, privileging, recredentialing, reappointment, and reappraisal, as well as the collection, distribution and maintenance of information. The CPMSM® course deepens your understanding of credentialing and privileging, medical staff functions, and operations management, as well as regulatory compliance and standards associated with accreditation and performance improvement.
Robust Tools for Certification Preparation
TMG offers study groups and a variety of material that will help you in your certification preparation journey. From flash cards to study guides, TMG's tools will alleviate anxiety by helping you feel prepared and confident.
Professional development isn't one-size-fits-all. While certificate and credentialing programs dovetail with the needs of many medical services professionals, you may seek specific knowledge or want to boost a particular skill set. Perhaps you need additional expertise to advance your career. Maybe you've been assigned responsibilities but haven't been given the tools to succeed. It could be that you want a seat at the management table but don't know how to get there. That's where TMG can help.
Design Your Course
Work with TMG's Education Director to design a course that aligns with your goals. Choose from among 16 specific competencies, such as privileging management or practice management; career advancement skills, such as team building or interviewing; and personal development areas, such as problem solving or communication.
Embark on Your Journey
TMG's accomplished instructors deliver 11 weeks of personalized online instruction accessible from your home or office. During one-hour weekly meetings with your instructor, you have the opportunity to review material, discuss assignments, and cover relevant hot topics. In between classes, use TMG's interactive online platform to collaborate, take quizzes, turn in assignments, and tap into additional resources. Feel secure in the knowledge that you're not alone, and create lasting connections with instructors.
"The faculty was amazing! Everyone was so knowledgeable and willing to take time to answer my questions. It was great to be able to learn from their real life experiences – what has worked for them in the past and how to improve moving forward."
"I recently completed a Career Development course with Donna Goestenkors from Team MedGlobal. It was one of the best courses that I have taken for my career development. I wish I had taken it sooner in my 25+ year career!"
"My mind is bursting at the seams with the wealth of information presented. I am eternally grateful for this boot camp and all of the resources provided."
"The faculty and staff are truly dedicated to each individual's growth and success, and having direct access to them is impressive. Also, the variety of types of exercises offered throughout the course is extremely helpful in learning the material."
"Thank you so much for an enlightening two days in assisting me in preparing for my certification."
Download the Certification Preparation Catalog
Learn more about TMG University and explore our robust certification preparation offerings.