Team Med Global's Leadership Drives the Conversation
Team Med Global is the recognized thought leader in the medical staff services industry. Our cutting-edge education, staffing, and consulting services promote best practices in healthcare administration. Team Med Global's thought leadership drives the conversation, leading to innovative, efficient, and effective solutions for healthcare organizations and medical services professionals.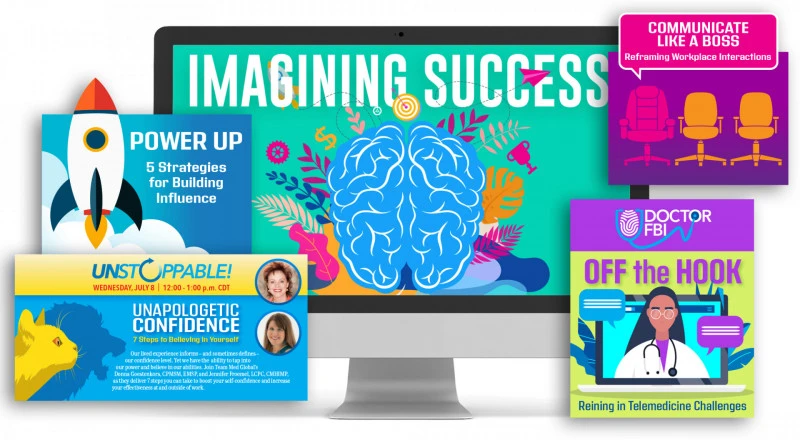 BROADEN YOUR HORIZONS. ACHIEVE YOUR POTENTIAL.
Whether you're new to medical staff services or have worked in the field your entire career, personal and professional growth empowers you to expand your horizon and reach your potential. TMG University's online courses and certification programs are designed to meet you where you are and then help you develop the skills and knowledge to boost your effectiveness and your career trajectory.
LIVE OR ON DEMAND. ONLINE OR IN PERSON.
The healthcare industry continues to evolve, requiring you to stay abreast of best practices while rising to the challenge of maintaining a healthy work-life balance. Team Med Global's trailblazing webinars and events deliver practical instruction for building skills, insights for successfully navigating the workplace, and thought leadership that pinpoints future trends. The result? Motivation and inspiration to reach higher and go further.
Team Med Global provides stellar staffing, training, and consulting services to hospitals, CVOs, health plans, managed care organizations, and physician practice management offices
Virtual & Onsite Training
When a medical services professional walks through the door, they bring unique knowledge, skills, and lived experience to their position. New staff members may need training, while more experienced staff members may have proficiency gaps. Across the board, inconsistent training or a lack of cross-training can lead to inefficiencies and miscommunication that impacts revenue streams and staff morale. Team Med Global partners with healthcare organizations to deliver virtual and onsite training that aligns teams and streamlines processes.
"The career development course gave me the knowledge and the confidence to land my dream job. I can't thank you enough!"
"Donna is such a good speaker. I could listen to her talk about paint drying and still get something useful out of it!"
"The faculty tailored the material to what was relevant to my work and has assisted me in understanding the concepts of project management required by an MSP. From start to finish, the entire program is first class!"
"We were in a bind and you delivered. The temporary MSP you placed has excellent skills and fits right in with our organizational culture."
"The Credentialing course not only met my needs but increased my interest in the topic and related topics. I plan to enroll for additional courses next year and encourage my peers to join me."
"Thank you for feeding our hearts and minds on the value we potentially can bring."
"I have truly valued and appreciated the education your organization has provided, and could not appreciate you more."
"Your sessions were collaborative and flexible, which is something not seen a lot in the conference environment. Loved it!"
Get the latest information about TMG programs and webinars, and discover opportunities to connect with the community of MSPs.
"*" indicates required fields
Learn about hot topics, meet industry leaders, and discover Team Med Global's latest projects and programs.
Networking is an essential skill for Medical Services Professionals (MSPs). Effective networking can significantly enhance both career development
As Medical Services Professionals (MSPs), we often navigate complex interactions and sensitive situations. That's why conflict management is
In the intricate tapestry of healthcare, Medical Services Professionals (MSPs) are the unsung weavers of safety and quality,