Speaker's Team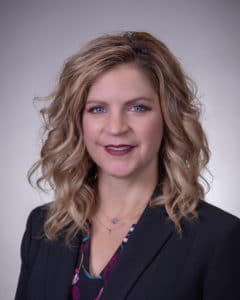 Wendi Stivers has served the medical staff services industry for 12 years, first in correctional healthcare and now in the private sector. As the manager of Medical Staff Services, California Central Coast Division of Dignity Health, she specializes in hospital and ambulatory clinic credentialing and payer enrollment. In this role, Wendi provides oversight of all operational tasks for credentialing and payer enrollment, hospital governance, CME coordination, and medical staff meetings and events.
The Lighter Side
In getting to know Wendi, we discovered that she's a writer at heart, that her daughter lights up her life, and that she's an Ellen DeGeneres fan.
When you're not at work, what's your favorite pastime?
I enjoy hiking with my best guy, art with my daughter, yoga, and tasting the wines of the California Central Coast.
What makes your heart sing?
There is no greater joy than being witness to my daughter's development. All the moments, even the challenging ones, are amazing because she is an old soul and she is a light.
What's your dream vacation spot?
I've been fortunate to travel to some beautiful places in the world. For me, the perfect vacation is not a spot; it is who you are with. A dream would be to have two weeks: one would be with my guy and the next week all of the kids would join us. It could be in the warm or the snow, as long as we all are together.
What's something that most people don't know about you?
I love to write. I don't think people know this about me because I generally write emails, checks, and lists! I like to write fiction loosely based on my escapades.
Which living person would you most like the opportunity to meet?
Even though I do not share all her views, I would love to meet Ellen DeGeneres! She is so funny, yet she represents a progressive view of the world. She is fair despite her beliefs and she is able to even make fun of herself.
What legacy do you want to leave the world?
I hope my legacy is carried on through being a strong leader and cloning myself; my daughter is my legacy.
What's your most treasured childhood possession that you still have?
I moved a lot as a Navy brat and got used to change. There isn't one item I have from childhood, only memories of new places and adventures.
When was the last time you had a good belly laugh?
We were traveling to my parents' house in our motorhome last July. My daughter said she needed to "go potty," but it was a windy, unsafe road. I told her she needed to wait, only for her to shout the dreaded, "But it is number TWO!" I said, "Safety first, you will have to squeeze your cheeks." Without missing a beat, she takes her hands to both sides of her face and squeezes her cheeks. "Mama, this is not helping!" Steve and I about died laughing.