TMG Payer Enrollment Institute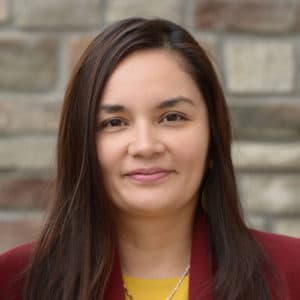 With more than 20 years of experience in payer enrollment and physician credentialing, Yesenia Servin, CPMSM®, is currently the Payer Enrollment Lead at the Loyola University Medical Center in Maywood, Illinois. There, she manages payer enrollment projects, briefs payer enrollment team members on industry trends, and is the liaison for the multitude of departments impacting payer enrollment processes. Yesenia also maintains her own consultancy, where she helps organizations develop and implement best practices guidelines and processes; analyzes a variety of commercial, private, and governmental claim filings; and manages credentialing processes for network participation agreements.
The Lighter Side
In getting to know Yesenia, we discovered that she has deep Peruvian roots, that she's already met the woman she most admires, and that a lacy pink dress has a special place in her heart.
What's your dream vacation spot?
Machu Picchu, Peru. Thanks to a DNA test, my family discovered that some of our ancestors were indigenous Peruvians in the mountains. It would be great to find our roots and discover our story! 
What's something that most people don't know about you?
I took piano lessons for years as a kid, and my mom would make me practice regularly. I hated it then, but I am very grateful for it now! 
Which historical figure do you most admire?
Sojourner Truth. She experienced much triumph despite all of her hardships and tribulations. Her story is of constant fighting for what is right, despite all the evil that was done to her. Remarkable.
Which living person would you most like the opportunity to meet?
For a long time, I wanted to meet Dolores Huerta. I finally met her last year when she was in Chicago speaking about social justice. I went right up to her and introduced myself and thanked her for giving her life to serve. When we were chatting, it felt like we were old friends, catching up. I've met my hero! Second to her would be John Leguizamo. He is hilarious and one of my favorite actors and activists.
What's your most treasured childhood possession that you still have?
A lacy pink dress that I wore when I was five. My mother, who migrated to this country as a 19-year-old and worked really hard all her life, bought it for a photoshoot. Splurging on cute fancy outfits for her kids and then booking a home photo session was a big deal for our family. The picture of me in that dress hangs in her house. My mother saved the pink dress, and my daughter was able to wear it when she was five. It symbolizes all the sacrifices my mother made for our family.
When was the last time you had a good belly laugh?
I am easily amused. I laugh a lot. My kids, my sexy beast, my parents, my brothers, my extended family, my friends…We crack each other up all the time. Life is too short to be a sourpuss. Laughter is life!