TMG Speakers' Team, Hospital Team, CVO Team, Payer Enrollment Institute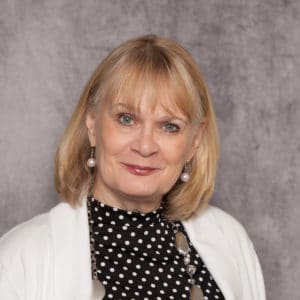 With more than 30 years of executive medical staff services experience, Stephanie Russell, BS, CPMSM®, CPCS®, is the director of medical staff services and credentialing for the southern region of UCHealth in Colorado Springs, Colorado. There, she oversees four facilities with three medical staffs, including a critical access hospital, medical education, and the residency program.
As a past member of the NAMSS Board of Directors and IAMSS Board of Directors, Stephanie has displayed her leadership skills and innovative perspectives and is known for asking the tough questions. She co-authored "Verify and Comply, Credentialing, Medical Staff and Ambulatory Care Standards." We're thrilled that Stephanie has been a collaborator and coach with Team Med Global since its inception.
In getting to know Stephanie, we discovered that the beach is her happy place, that prayer guides her, and that she admires both Jackie O. and the Obamas.
The Lighter Side
When you're not at work, what's your favorite pastime?
I love a good workout – a long walk and enjoying a good glass of wine under the stars.
What's your dream vacation spot?
The beach is my happy place and I really like Carolina Beach, NC. It's a sleepy little coastal town that is not overrun with tourists. I would like to go to Ireland and Italy – Ireland because it has a lot of heritage for my family and my husband's family. Italy because I've always wanted to go to Rome and Tuscany.
What's something that most people don't know about you?
I'm an open book. With me, what you see is what you get. I do, however, have boxes and boxes of pictures. Yes, real pictures – not electronic files, but actual photos that I have taken over the last 40 years. I've just recently started framing them and organizing them.
Which historical figure do you most admire?
I've always been intrigued by Jacqueline Kennedy Onassis. She lived a privileged life in many many ways, but endured great heartache as well. She made some extremely tough decisions for herself and her children both before JFK died and after. She sacrificed much of herself to provide for her children's future and to make sure they were taken care of both financially and emotionally. She had strength and beauty and lived a life to be admired as a woman of true substance.
Which living person would you most like the opportunity to meet?
I would like to meet Michelle and Barack Obama. They created history in this country and have an amazing background of humble beginnings. I want to talk to Michelle and see how she kept her marriage alive during two terms in the White House and to learn any pearls of wisdom from Barack to change the world. He had the gift of connecting with everyone he met on some level, and I would love to learn how to do that.
What legacy do you want to leave the world?
There's a song by Mercy Me that says, "I don't want to leave a legacy – I don't care if they remember me – only Jesus." That sounds cheesy but truly, I want people to know that I love the Lord and I pray. I told my husband that I want "She prayed" on my tombstone. Prayer changes things and I want people to truly know and believe this.