Team Med Global Operations Director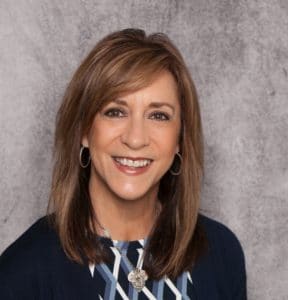 Lisa Deterding is Team Med Global's Operations Director. With more than 29 years of administrative experience, Lisa ensures that all of TMG's proverbial trains run on time. She leverages her expertise in team building, organization, and communication to develop processes, oversee Team Med Global's daily operations, and create seamless experiences for TMG collaborators.
The Lighter Side
In getting to know Lisa, we discovered that a visit to Switzerland is on her bucket list, she admires Dolly Parton, and one of her unmentionables ended up in a church pew.
What makes your heart sing?
When my family is gathered. I host my entire family for breakfast on the first Sunday of the month. For a few hours on one day, we can all catch up on what's going on in each other's lives. There can be 20 to 25 family members, from my parents to great nieces and nephews. This makes my heart sing.
What's your dream vacation spot?
Switzerland. My grandparents went when I was in grade school. I remember getting a small Swiss villa View-Master and loving the photos of Switzerland. My husband traveled there after his high school graduation and said how beautiful it was, and that it was so clean that you could eat off the streets. It's on my bucket list.
What's something that most people don't know about you?
I love devoting my time to Hope Ranch, a nonprofit organization in Freeburg, Ill., that provides hippotherapy, occupational therapy, and physical therapy to kids and adults with disabilities. My hope is to one day support this amazing organization by operating a barn venue to host a variety of events to help fundraise and support the vision of Hope Ranch.
Which historical figure do you most admire?
There are several historical figures I admire as they have paved the way to where we are today, but the one I most admire is Jesus. He is my Lord and Savior and I seek Him every day.
Which living person would you most like the opportunity to meet?
Dolly Parton. Her stories about her life are in her songs, but I love that she always knew what she wanted to be, and she didn't give up. She's a hard worker, she's genuine, she's successful, she's giving, and she stays true to her roots and beliefs.
What legacy do you want to leave the world?
Treat others as you want to be treated, have compassion for others, be kind and giving, and help wherever there is a need. Before you judge anyone, understand that behind each and every living being, they have a story, they have heart wounds, and they deserve to be loved!
What's your most treasured childhood possession that you still have?
I don't recall a childhood possession, but my childhood memories are fresh and memorable. I grew up in a small town in the Midwest with a population of 3,000, where everybody knows your name. I could ride my bike across town with friends to go to the pool, baseball diamonds, and coffee shop, where they served the best cherry Cokes. I played outside with the neighborhood kids until our parents called out to come in. I treasure my childhood memories.
When was the last time you had a good belly laugh?
One recent Saturday night, my husband and I attended church. My husband noticed an item near his shoe in the church pew after we had Communion. He picked it up and was trying to make out what it was, and then as he unfolded this item, we discovered it was an undergarment. My undergarment!!! Thank goodness no one else was sitting in the same pew or behind us! I snatched it out of his hands and threw it in my purse. We had tears in our eyes and were laughing so hard trying not to make spectacles of ourselves. We came to the conclusion that it was static in my husband's slacks that housed this undergarment and possibly other items that have been missing without a trace. A belly laugh memory I'll never forget!