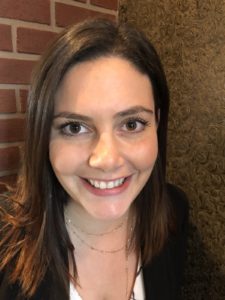 We're excited to welcome Kate Baumgartner to Team Med Global. As Director of TMG's new service, ProVISIONary Staffing, Kate will recruit MSPs for part-time or full-time, temporary or permanent positions within a variety of healthcare settings. In the process, she'll help MSP's identify their strengths, showcase their talents, and increase their marketability within the industry. According to Kate, "We want to invest in each MSP and each client to ensure the right match is made."  
Kate comes to TMG with an A.S. in Computer Information Systems and a B.A. in English from Southern Illinois University. During her six-year tenure working as a recruiter for staffing agencies, Kate has conducted more than 2,000 interviews, placed hundreds of people in right-fit positions, and helped countless people advance their careers. We're thrilled to have Kate overseeing TMG's new service.
The Lighter Side
In our quest to get to know Kate, we dug a little deeper and discovered that she's a Potterhead, an avid reader, and an admirer of Mindy Kaling.
What makes your heart sing?
Gardening and happy dogs!
What's your dream vacation spot?
Portland, Maine. It is beautiful, historic, walkable, fun, and the food is unbelievable.
What's something that most people don't know about you?
I love Harry Potter. I have a childlike enthrallment with the books and movies. Books are the most magical invention of man. The Harry Potter books are well written. The story captivates you. The details make it believable. The scenery is drawn out so clearly. Everything in Harry Potter has a backstory. There is a rich fictional history behind everything that feels immensely real.
The characters are human in every sense of the word. One of my favorite parts of the Harry Potter world is the way characters with each other. They fight. They love. They react and express a wide range of emotions. They do good but still make mistakes; they all have flaws. They're vulnerable, and as human and alive as you and I.
Which historical figure do you most admire?
Vera Atkins. She was a spy for the Allies in WWII and worked with the man who is said to have inspired the character of James Bond. One of her specialties was improvising weapons on the fly. Her exploits are chronicled in the excellent book, "Spymistress."
Which living person would you most like the opportunity to meet?
Mindy Kaling. She embodies the trifecta of being brilliant, wonderful, and hilarious. Because that is statistically impossible, it can mean only one thing: she was created by an evil scientist to lull us into a giddy stupor in order to control our minds. How else can you explain someone who simultaneously commands respect and affection? Someone so acutely adept at creating her own opportunities? Moreover, Mindy has a bright and generous laugh that's good for the soul, and yet she doesn't suffer fools. No matter the issue, she can be relied on to weigh in with conviction and good humor.