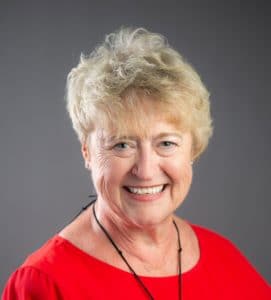 Watching her captivate an audience with anecdotes from her life, and wisdom gained from 55 years working in medical staff services, one would never guess that Carol Cairns used to break out in hives at the prospect of giving a five-minute presentation to a medical staff committee. "I'm living proof you can conquer that fear!" she says.
Cairns, who holds CPMSM® and CPCS® credentials, is also living proof that one woman can have an indelible impact on a profession. Her three-decade tenure at St. Joseph's Medical Center began in what she believes was the first medical staff office in the U.S. "The medical director's vision was amazing," she says. "He hooked me when he told me that no two days will ever be alike, and that we'll do our best to chart the best future course with medical staff leaders."
She attributes her early success to an outstanding medical staff dedicated to patient care, the internal development of excellent medical staff leaders, and a supportive administration that worked hand-in-glove with medical staff. "I was privileged to learn from the best," she says. "It was the perfect environment to develop, grow, and contribute – and eventually lead." While at St. Joseph's, Cairns advanced from medical staff coordinator to manager and, finally, to director. Ten years ago, she came full circle, accepting an appointment to the medical center's Board of Directors Bylaws and Credentialing Committee.
Other professional circles are coming to a close. After 24 years contracting with The Greeley Company, in December Cairns presented her last national program on behalf of the organization. "After all these years on the podium, I wanted to walk away before others have to tell me to go," she says. This followed on the heels of her 2017 retirement as a NAMSS faculty member – a position she'd held since 1989.
While Cairns is no longer on the NAMSS faculty, the NAMSS annual conference remains close to her heart. "Forty-three years ago, a brochure came across my desk for NAMSS' first educational conference in Chicago," she says. "I jumped at the chance to go, and haven't missed one since." Cairns even attended the NAMSS conference when her husband was terminally ill. "He insisted that I go," she says.
Lessons Learned
When she reflects upon her storied career, Carol Cairns first acknowledges her humble beginnings. "I came out of the cornfields of Illinois, outside of a town with a population of 700," she says. "My parents were deaf, and persevered against the stereotypes of deafness in a way that made me say, 'Anything's possible.'"
Cairns taught American Sign Language at a local community college for 30 years, and attributes her passion for communication to her biliteracy. "It's at the root of my emphasis on listening with the intent to understand, and not judging," she says. Noting that we often wait to speak instead of listening, Cairns says, "Through listening, you can find compromise, discover opportunities to solve problems, and mediate situations that appear to be black and white but are actually gray."
If listening to understand forms the foundation of the gift Cairns has given the medical staff services profession, "aspire higher" forms its vaulted ceiling. While NAMSS used the phrase years ago, Cairns says, "I've taken that on as a personal challenge." To that end, Cairns doesn't spend time dwelling on the past, and instead focuses on the future. One thing she wishes she would have known starting out? Don't spend time agonizing over the moment or fretting about a particular discussion, slight, or inability to get something done. "Move on," she says. "Learn from the past, but what matters is what you're going to do the next time."
Witnessing – and Creating – Change
As a pioneer in the field, Carol Cairns has created and witnessed a multitude of changes over the past half-century. "Early on, our profession wasn't considered a profession," she says. Noting that MSPs now work in hospitals, hospital systems, small and large medical groups, CVOs, and managed care, she says, "Some of us have moved on to C-suite positions, and others are attorneys, consultants, authors, and presenters. We're all over the place – it's awesome!"
Cairns takes great satisfaction in the accomplishments of pioneers in the field – and those who came after. "We've been able to develop a knowledge base, processes, and best practices that really impact patient care," she says. "We never lay our hands on a patient, but we know that what we do makes patients safer."
Other leaders in the industry are quick to acknowledge Cairns' contributions. "Carol is warm and welcoming, and has served as a mentor to many without expecting anything in return," says Donna Goestenkors, President of Team Med Global. "She is an industry guru whose knowledge is broad-based and who excels in her ability to teach." Noting that Cairns is a master in relating to physician and administrative leaders, Goestenkors says, "She's also so patient when working with MSPs, regardless of their experience level."
Fading Away
Carol Cairns doesn't talk about retirement. For many years she's said, "I'm just going to fade away." Yet, she notes, "There are a few commitments between now and the end of 2020 that I've promised to fulfill, but it's time." She plans to maintain her groundbreaking solo practice, PRO-CON, which she launched in 1996, and may continue serving as an expert witness in negligent credentialing cases. But, she says, "I've worked in all 50 states and I've traveled to 20 countries, and I want to slow down."
While her daily routines may shift in the coming years, Cairns has no plans to disappear. She notes that those who love medical staff services never leave. "You're going to be here until they put you in a coffin," she says. "I've been able to participate in the development of the MSP position, its growth, and its recognition. That means everything to me."