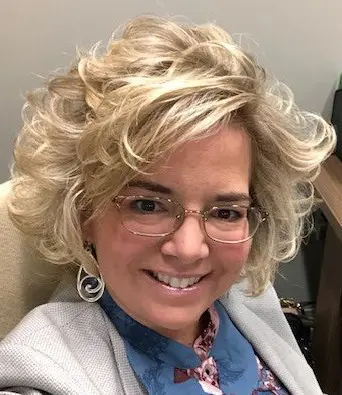 Melissa Walters, MS, FMSP, CPCS®, CPMSM®, has come a long way since she was a receptionist at a West Virginia nonprofit community health system. Like many in the medical staff services profession, "I fell in love working with physicians, and being their go-to person." At the health system, Walters was responsible for completing credentialing and privileging applications for the hospital, as well as payer enrollment forms for various payers. She also supported the director of business operations, who in turn was responsible for quality and risk management. "I decided I wanted to branch out and get into the medical staff operations side of the hospital," she says. "I've been in medical staff operations ever since."
Walters left West Virginia in 2004 and took her first management position at a hospital in Kettering, Ohio. From there, she found her way to the Johns Hopkins health system in Maryland.
Walters is passionate about the medical staff services profession. Over the years, she has found that the same doesn't hold true for everyone. "Some people in the profession look absolutely miserable, but don't get out because they've been in it for so long," she says. "Ultimately, you spend so much time at work that you should enjoy what you do."
Taking the Reins of Leadership
Melissa Walters' passion is reflected in her work with NAMSS, which began in 2001. "I started out on the Certification Commission, and had three wonderful mentors – Carol LaPine, Susan Pickren, and Bonnie Gutierrez," she says. "They took me under their wings and helped me grow as a professional and as a leader."
From there, Walters served as a NAMSS director at large, and then as an officer until she became president of the organization in 2013. As a past president, she has been chair of the Leadership Selection Committee, the government and industry relations liaison, and chair of the Leadership Development Work Group. Walters is currently serving as NAMSS faculty. Despite all of her work on behalf of the organization, Walters says, "My biggest contribution to NAMSS is my passion to inspire others to be MSPs and to enjoy the profession."
She gives kudos to those in leadership positions. "MSPs persevere in getting professional recognition as leaders in the industry," Walters says. "From developing credentialing standards to crafting industry benchmarks to embracing digital transformation, we've been a rocket ship."
The Future of the Profession
If Melissa Walters was to give a single piece of advice to the next generation of MSPs, it would be, "Embrace change and leave a legacy." She notes that the profession is rapidly evolving, and "We need to be on board to move forward."
Walters sees four primary changes facing MSPs. The first is digital transformation. "That might mean conducting primary source verification through blockchain technology or introducing a digital workforce to the ways in which we conduct credentialing or primary source verification," she says.
The second is a move away from strictly gathering and collecting information. "We're moving toward processes that require more analytical and critical thinking," Walters says.
Third, Walters notes that telehealth is here to stay. "We really need to look at how we're going to measure quality as it relates to telehealth performance," she says.
Finally, Walters says, "MSPs must get comfortable with no longer needing to be onsite to take care of your physicians." Acknowledging that this shift is especially hard for those of her generation, she notes, "Younger generations of physicians don't need us as much because we're able to use electronic tools and that's their preference."
The Importance of Work-Life Balance
Over the years, Melissa Walters has learned the importance of nurturing the mind, body, and spirit. "This means not only nurturing your own self, but also those that you lead," she says. "It's important to let my team know that it's okay not to be okay. It's okay to put your own wellness first, before the job. It's really all about the work-life-family balance." Walters notes that, in her NAMSS roles, she recognized the importance of taking incoming young professionals that they need to take care of themselves in order to take care of others.
According to Walters, part of that care is being available to her team. "I lead with an open-door policy," she says. "Whether or not they feel comfortable talking about a specific personal issue, they know they can adjust their schedule to take care of it."
Walters currently works for MedStar Health in Columbia, Maryland, where she is Assistant Vice President, Medical Staff Operations. She considers Columbia the best of both worlds. "I have the mountains and beaches within a couple hours' drive," she says. "And Baltimore and DC are 30 minutes away."
"I try to take at least one day a week to focus on myself," Walters says. "I spend time outdoors to get away from the day-to-day chaos." She goes on hikes, kayaks, reads both fiction and nonfiction, and volunteers in the community.