TMG Payer Enrollment Institute and Practice Management Alliance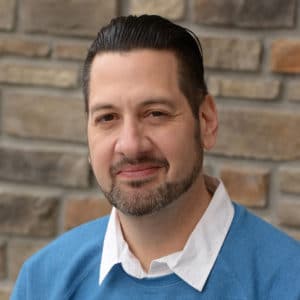 Larry DeHoyos, CPCS®, PESC, is a key member of TMG's Payer Enrollment Institute and Practice Management Alliance. As Director of Credentialing and Payer Enrollment with U.S. Dermatology Partners in Dallas, Texas, he oversees the organization's health plan enrollment and provider credentialing functions for its 106 sites across the country. Larry's focus includes centralizing systems and workflows, and collaborating to help mitigate enrollment claim denials.
Larry's has worked in provider credentialing and enrollment within managed care organizations, health systems, and single/multi-specialty medical groups supporting accrediting bodies as The Joint Commission, NCQA, URAC, AAAHC, and CMS. He is a trained Transformational Healthcare Champion whose expertise includes lean workflow assessments for a paperless office environment, data governance, and provider directory management.
The Lighter Side
In getting to know Larry, we discovered that he's a pop-culture enthusiast who has a soft spot for royalty.
When you're not at work, what's your favorite pastime?
I'm up for anything to do with pop culture. I also like being a tourist wherever I happen to be living. I love learning about a city's history and discovering odd finds.
What makes your heart sing?
Coming home after a long day at work, no matter how energetic it was, to Miranda and Valentina, two Great Dane sisters. There's nothing like a grand welcome from those two fur babies.
What's your dream vacation spot?
Medellin, Colombia, for its natural beauty and warm culture. I've been three times in the last five years, and I am always amazed at the welcoming traditions all around the country.
What's something that most people don't know about you?
I lived in Tijuana, Mexico for 20 years and crossed the border daily to go to work.
Which historical figure do you most admire?
I look to those who had an interesting attribute that resonates with me. I most admire Princess Diana, who was able to overcome social challenges and shy away from the protocols of monarchy to attempt to live a normal life. I admire John F. Kennedy for his leadership.
Which living person would you most like the opportunity to meet?
I would love to meet Queen Elizabeth II. She has been a leader for decades and has lived through relations with several waves of the U.S. government. I think she would be a wealth of history and knowledge.
What legacy do you want to leave the world?
I am a Libra, so I need balance in my life. I would like to be remembered for being fair and honest, and for not regretting decisions I've made. All paths of life lead to success or learning opportunities.
What's your most treasured childhood memory?
I treasure memories of time spent with my paternal grandmother. Her firm demeanor, her soft heart, and my stubbornness made us a true tag team. We shared the same birthdate (50 years apart) and we were truly best friends.