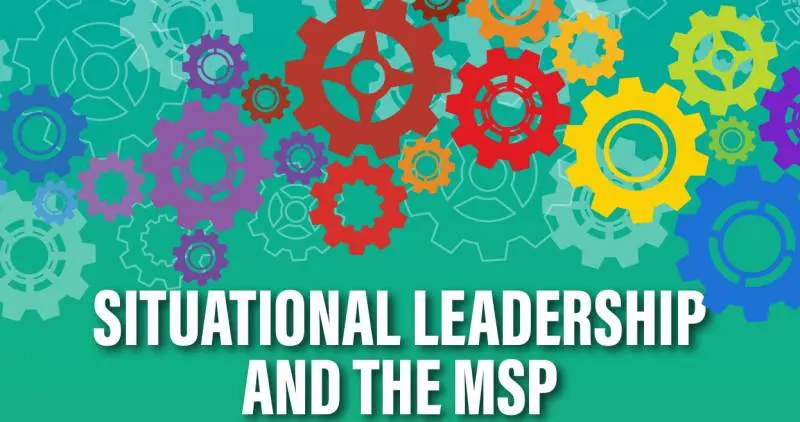 Have you ever reflected back on your day and felt like you've been on a roller coaster ride, like your last nerve is frayed, or like a sovereign surveying your kingdom? How about those days where you observe your team guide themselves and fellow team members brilliantly despite their varied backgrounds and experience in the field? Feeling confused and wondering why your supervisor cannot work with you the way they work with your peers?
You are not alone.
This is the introspective and perhaps darker side of Situational Leadership. If you are in a position of leadership within your organization, you are probably working this model of leadership already. It is built on the tenants of meeting your team members where they are through assessing experience and work styles and then matching projects and expected outcomes.
The Basics of Situational Leadership
Situational Leadership was introduced in the '70s by Ken Blanchard and Ralph Hersey, who collaboratively published the book, Management of Organizational Behavior. You might be familiar with One-Minute Manager, by Ken Blanchard and Spencer Johnson; or Leading at a Higher Level Self-Leadership, by Ken Blanchard.
These books argue that the key to successful leadership is to develop people, our most precious resources. As leaders, we can influence our teams to stay with the company or to seek employment elsewhere. The team is made of individuals at different stages of their careers and having different levels of knowledge, skills, and abilities (KSAs). We make the team successful by implementing Situational Leadership techniques and methodology, which in turn enhances the workplace and grows the team.
Timeline of Leadership Development
Situational Leadership grew from the following leadership styles:
Trait-Based: Leadership springs from innate character traits, such as charismatic, ambitious, self-confident, energetic, flexible, intelligent, or principled. This leadership style was favored from the mid-1800s to 1940.
Style-Based: Leadership can be taught. This grew out of the birth of the United Nations, the mission of which is to strive to improve lives and encourage global peace through participatory leadership and economic trade. This view held from the 1940s to the 1960s.
Situational Leadership: Sometimes called contingency leadership, situational leadership saw its heyday between 1960 and 1980, though it is used today in conjunction with other management styles.
Transactional: Transactional leadership seeks to inspire the team through motivating them with external rewards, such as pay-for -performance and awards. It can sometimes set up power struggles. Transactional leadership gained traction in the 1980s and is still used today.
Transformational: In contrast to transactional leadership, transformational leadership expands the actualization of the team, increasing mutual trust and job satisfaction, and seeking to intrinsically motivate members. This has been used since the 1980s.
Post-Transformational: The post-transformational leader has a high level of emotional intelligence, which is necessary to lead the team-based structure of modern organizations. This style of leadership has been used since 2000.
When assessing the three newer leadership and management theories, it is apparent that they use Situational Leadership as their anchors. Transactional, transformational, and post-transformational styles depend on your ability to assess team members' KSAs in conjunction with your ability to manage them throughout a project by leveraging your emotional intelligence.
Situational Leadership Styles
There are four styles of Situational Leadership. When the styles are adopted by MSPs, they can strategically plan and successfully implement projects.
1. Telling, Directing, or Guiding: High Task Behavior and Low Relationship Behavior
This highly structured style is hands-on. Team or project leaders check in on the employee or project team daily. This approach is best used with a new employee, a newly assigned project that is stretching a team member, or an emergency task. The leader is highly engaged in the process, often directing the plan or next steps.
2. Selling, Coaching or Explaining: High Task and Relationship Behavior
In this structured style, the What, How and When is emanating from the leader but the why and where of the project is collaborative. Team members play more of an active role. This creates higher buy-in from and understanding by the project team members. This is typically instituted for teams with known KSAs to work on projects more independently.
3. Participating, Facilitating or Collaborating: High on Relationship Behavior, Low on Task Behavior
This style involves team member-driven processes and is used to create alignment. The team member might possess the right KSAs, but lacks opportunity, motivation, or confidence to step forward and participate without a partner. Think of the buddy system. The team member with lower KSAs can easily access their buddy's strengths. When the buddies have demonstrated collaborative working styles, this produces a higher quality project than if the person worked alone. The collaborative design provides an opportunity for extrinsic motivation while developing the confidence of the team members.
4. Delegating, Empowering, and Monitoring: Low Task Behavior and Low Relationship Behavior
This leadership style is used with seasoned team members who have demonstrated success with working independently. Team members are confident and self-motivated. The leader periodically checks in on the team member, but has little concern for the successful on-time completion of the project
Do's and Don'ts of Situational Leadership
The research is solid…
DO change your leadership style depending upon the team and the project. Certainly, allow your past experience to guide you. Ask yourself how well you know the team and its past project performance. What combination of personalities and KSAs will give me the product I need AND grow the team?
DO pair together those who have worked well AND be mindful in strategically adding a less experienced person to the project and tasking them with an easy deliverable. This will help expose the less experienced person to higher levels of performance and KSAs.
DO tie the project, whenever possible, to the goals developed during the team member's last evaluation.
DO monitor and demonstrate appropriate tasks and behavior. This is not a codified process; it is dynamic and so are the team members. Evaluate the performance and ask open-ended questions during project meetings and 1:1 sessions. Be prepared for the answers BUT keep your questions focused on the project and team.
Your job in this is to lead by example, through coaching and motivating as appropriate. This style of leadership requires you to have enough emotional intelligence to demonstrate flexibility towards the process but not flexibility in expected outcomes.
DON'T allow the good ol' boys club to form. Be aware of the newest member or the identified underdog. Make sure to support and engage them in the process, and discuss potential barriers that may be blocking their participation or success.
DON'T be swayed by a dazzling quick win. Keep the evaluation processes in place. A quick win is integral to projects, but allowing the team to rest on past successes does not get the project completed and move the motivation from extrinsic to intrinsic.
DON'T forget to put the team's needs first.
DON'T approach the team or project with rigidity. We change daily and so do team members. Allow fluidity, keeping your and the team's eye on the goal – even if it means sometimes ignoring the process.
What's in it for Me?
Situational Leadership allows you to continue to develop your team members – whether they're working remotely or onsite. They will fluidly move among delegating, participating, selling, and telling, depending upon their KSAs and internal motivation to grow as professionals.
The research purports that this leadership style will grow loyalty to the organization while developing team expertise in a way that other leadership models cannot.