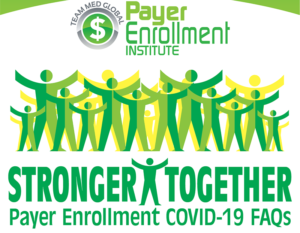 On April 2, 2020, Team Med Global provided a complimentary webinar, "Stronger Together: Payer Enrollment COVID-19 FAQs." During and after the webinar, attendees posed timely questions and shared their teams' experiences during the pandemic. TMG team members Donna Goestenkors, CPMSM®, EMSP, Yesenia Servin, CPMSM®, and Larry DeHoyos, CPCS®, PESC, respond to attendees' questions and comments:
Q. Word is that Medicare enrollment is not required after Monday. Is that true?
A. Medicare has NOT stopped enrollment for its providers. If they did, there wouldn't be a way to manage who is providing services to its beneficiaries or billing. However, Medicare created a Provider Enrollment Hotline where a new or existing provider can be enrolled over the phone and given a Temporary PTAN, which is good through the end of the Emergency Declaration. (See the CMS FAQs for more information.)
BEST PRACTICE: Unless a provider is given emergency privileges, Medicare still allows for a 30-day retroactive enrollment date through its standard channels. The MACs have considerably reduced their turnaround times as well.
Q. I saw a CMS requirement that, even during the disaster, credentialed providers will need to add their home addresses.
A. At this time, there is no requirement for the home address to be listed in a provider's enrollment record. CMS advised in their most recent Q&A (March 2020), "The discrepancy between the practice location in the Medicare enrollment (clinic/group practice) and the practice location identified on the claim (provider's home location) will not be an issue for claims payment."
BEST PRACTICE: Work with your Revenue Cycle department that submits claims to implement claim logic for Place of Service-02 Claim to pull the Provider's Home Address (if applicable) and populate on the claim (Box 32 on the 1500).
Q. Are we sure all payers have to have the 02 POS? Some say yes and some say no.
A. Unfortunately, at this time, each health plan has its own unique guidelines for telemedicine services claim submission. There are rules and guidelines down to the specific pay locality/service area by health plan contract. We recommend that you check with your network representative or Claims Processing department.
Q. Is the Medicare enrollment process for Medicare faster than normal?
A. Medicare has ramped up its processing times and has been extremely helpful.
Q. What is your take on closed panels? Do you think that, because of COVID-19, any closed panels will be opened to allow more providers to deliver services to patients?
A. There is an opportunity to check in with payers that have closed panels. For some specialties, the closed panels have opened due to current need.
Q. We have been impacted internally in our department with staff members who are fearful of being in a health center. At this time our organization is not allowing us to work from home.
A. Sorry to hear that! It is important to honor everyone's feelings. It is scary, and staff that feel fearful and anxious have to be reassured that the employer will do its best to keep them safe and healthy. Many organizations, small and large, have created emergency policies that allow their non-clinical essential staff to take their computer equipment home. Full release and policy must be written up for this temporary but urgent need.
Q. Our internal education department has initiated 20-minute Zoom video pop-up meetings just to have casual interactions.
A. Zoom, Google Hangouts, GoToMeeting, and Uber Conference are all great tools for staying connected with the team.
Q. Organizationally, 30 percent of staff are furloughed but provider enrollment staff members are considered essential staff so we're both working full-time.
A. Payer enrollment staff are the gatekeepers to the revenue stream!
Q. What tracking tools do you recommend to ensure productivity when credentialing/enrollment specialists are working from home?
A. You can use good, old-fashioned Excel. There are project management tools that many MSPs love, such as Trello, Microsoft Teams, and Asana. Use the platform that you know works for you and your team. A tool needs to track when an enrollment request came in, when the complete application was submitted, turnaround, etc.
Q. I work for a large group of providers. CMS sends their approval letters to our group address at the office. I now work remotely. Can they email those letters since I'm listed as a contact on the application? Do I need to make a request for each provider?
A. This is a responsibility that falls on the entire team. Set a rotation schedule so that one team member picks up the mail once per week. There are several payers that are working towards putting all communications in the provider portals.
Q. Do you know which payers are not allowing telehealth options?
A. Contact the payer network in your state.
Q. We are a telemedicine group, and Medicare has always required us to enroll our providers where they sit when providing services, including home addresses.
A. Medicare regulations require that a provider's location is listed on the enrollment. Medicare's telemedicine rules did not allow a provider to provide services from a home setting. With the COVID-19 pandemic, CMS provider enrollment requirements have been relaxed. For now, updating records with a home address is not required.
Q. When you say payer enrollment, do you mean that we need to notify our payers that our providers are providing telehealth services?
A. Payer enrollment is the process of completing network applications in order to get a provider enrolled with payers.
Q. We have a large group that now has 600 providers trained to work from home doing video visits. Do we need to send their home addresses to Medicare? Some people say yes by spreadsheet and some still say no.
A. Contact your MAC, as many have temporarily waived this requirement. Make sure to keep a record of the call with a reference call number.
Q. My team of ten is asked to work from home at this time. We have 1,200+ providers and are adding more to handle surge if it happens. A lot of retired MSPs are coming back to help us. Our organization has promised to pay everyone their salary.
A. Glad to know that many MSPs can continue to contribute to the industry! #RemoteWork
Q. Our team is using Microsoft Teams to communicate casually all day long. Most of our employees are at home and providers are doing telehealth for behavioral health.
A. Behavioral health and mental health practitioners are needed now more than ever.
Q. If we have more questions, can we reach out to you to get your opinions and thoughts?
A. Yes! Please email ask (at) teammedglobal (dot) com