When Team Med Global surveyed MSPs and PEPs regarding which project management platforms they used in their work, the results were surprising, given that project management tools are growing in popularity for the Medical Staff Services industry: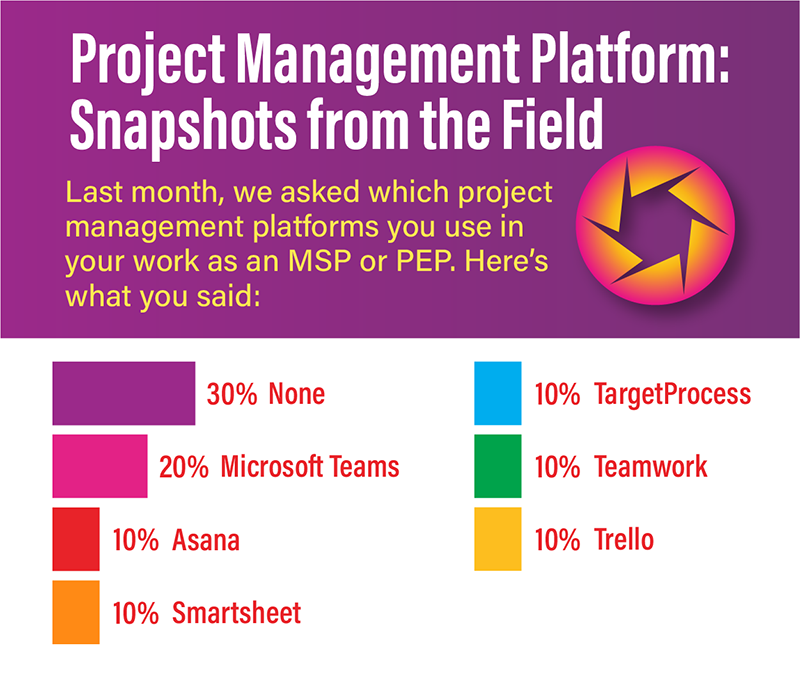 30% None
20% Microsoft Teams
10% Asana
10% Smartsheet
10% TargetProcess
10% Teamwork
10% Trello
Three in ten respondents indicated that they don't use a project management platform. While a project management platform doesn't solve every challenge that arises, it can be invaluable when shepherding large programs from the idea stage to completion or when juggling multiple projects through a pipeline.
Advantages of Project Management Platforms
A project management platform has a number of advantages over spreadsheets, whiteboards, or an endless supply of sticky notes, including:
Visualization: Platforms offer a visual interface that allows everyone on the team to see a snapshot of a project's moving pieces. This generic project management Trello board uses columns for various project stages: Project Resources, Questions for Next Meeting, To Do, Pending, and Blocked.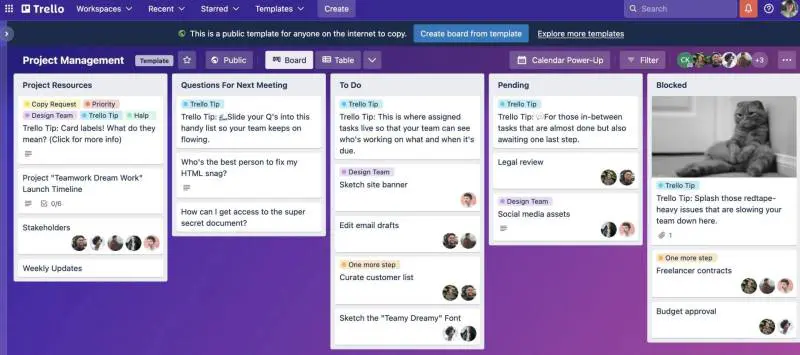 That said, columns can be named and ordered in a way that makes sense for the organization and team. For example, to manage multiple small projects, each team member might have their own column. For strategic planning purposes, columns might be named according to broader categories, such as credentialing, payer enrollment, minutes, peer review, performance evaluations, budgets, and so forth.
Within each column are individual cards. The cards can represent tasks, assets, or smaller projects. Team members can be assigned to a card, and cards can include checklists and attachments. Team members can move cards from one column to another as tasks or small projects are completed.
Streamlined Communication: Meetings can be a time sink, and emails and texts can leave some team members out of the loop. Project management software is updated online in real time so that all team members have up-to-the-minute information. Platforms' document sharing, commenting, and tagging features mean that conversations and files are never lost.
Improved Collaboration: Project management software also supports improved collaboration. It can be difficult for all team members to attend meetings, resulting in communication gaps and unnecessary delays. When tasks are assigned to team members via a project management platform, areas of responsibility are clear, timely completion of tasks is more likely, and accountability is easier.
More Effective Remote and Hybrid Work: Because project management software centralizes resources, messaging, and tasks, the platform becomes the single source of truth. As a result of this transparency, everyone on the team – regardless of their location – can access, work on, and update projects.
Available Project Management Software
There are a number of products on the market that can help MSPs and PEPs manage projects, including:
Each product has different features, so selecting from among them can feel daunting. A good place to start is to talk to your team. Questions to ask include:
When are you sure of your day-to-day priorities and when are you unsure?
Where do you see inefficiencies in our processes?
When do you feel out of the communication loop?
When do you feel unclear about your responsibilities and deadlines?
What do you think the benefits of a project management platform will be?
What are your concerns about project management software?
Once you've identified your team's pain points, needs, and preferred processes, you're better equipped to find software with features that match your needs. When researching and selecting a platform, it's important to walk the line between unnecessary bells and whistles and software that has room to grow with your department or organization. Also consider the importance of ease of implementation; the best project management platform won't help if team members don't know or want to use it. Finally, when you've narrowed down the best options, take advantage of free trials. Install the software and run the same project on multiple platforms. You'll quickly see which is likely to work best for your team.
Project management software not only saves time and resources, but it can increase team cohesion and lessen burnout. There's no downside to taking it out for a test drive.