Team Med Global, the leader in Medical Services Professional (MSP) education, staffing, and consulting, has released its Executive MSP Competency Formula and Competency Model. According to Team Med Global President Donna Goestenkors, CPMSM®, EMSP, the new formula and model reflect the skill sets required of MSPs who are at the top of their profession. "Executive MSPs exhibit a combination of expertise, effectiveness, and direction that fuels excellence in their workplaces and fulfillment in their career trajectories," she said. "When all of the puzzle pieces fall into place, they add unprecedented value to their organizations."
The Executive MSP Competency Formula devised by Team Med Global is straightforward: Knowledge + Skill + Impact = Competence. "We define knowledge as the subject matter and management expertise that an MSP develops," said Goestenkors. "Skill is their personal effectiveness on the job, and impact is their career preparedness." In addition to those three factors, Goestenkors notes that there are a variety of competency environments. "Some MSPs work in a hospital setting, while others work in managed care, practice management, Credentials Verification Organizations, or another environment," she said.
Team Med Global visualizes its Competency Model as a jigsaw puzzle. "Each part of the competency equation is comprised of expertise in a variety of areas," Goestenkors said. "The Knowledge component encompasses everything from provider privileging and credentialing to change management and healthcare quality data."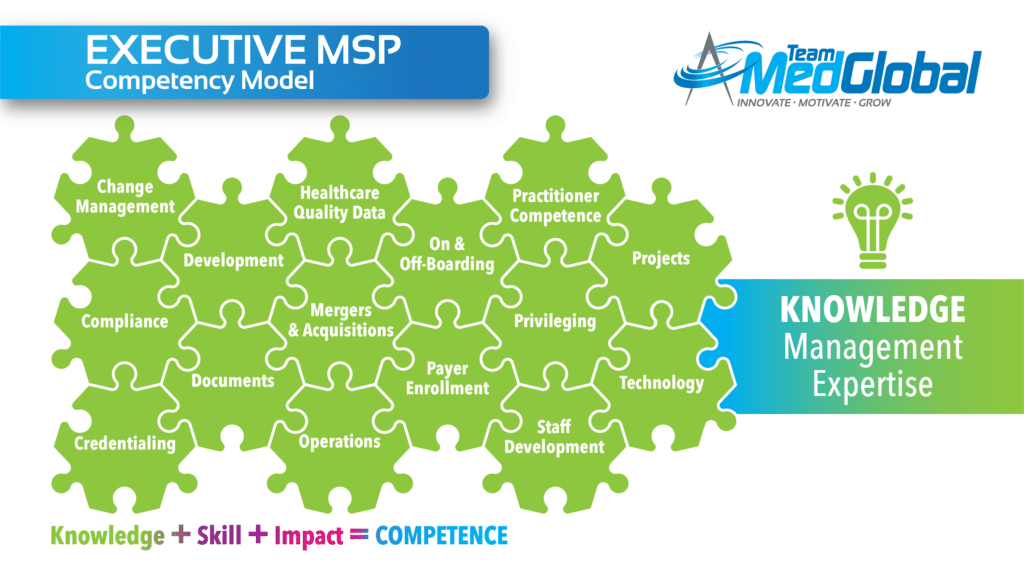 "Similarly, the Skill piece of the equation consists of a number of qualities that increase personal effectiveness, such as collaboration, relationship management, and emotional intelligence," Goestenkors said.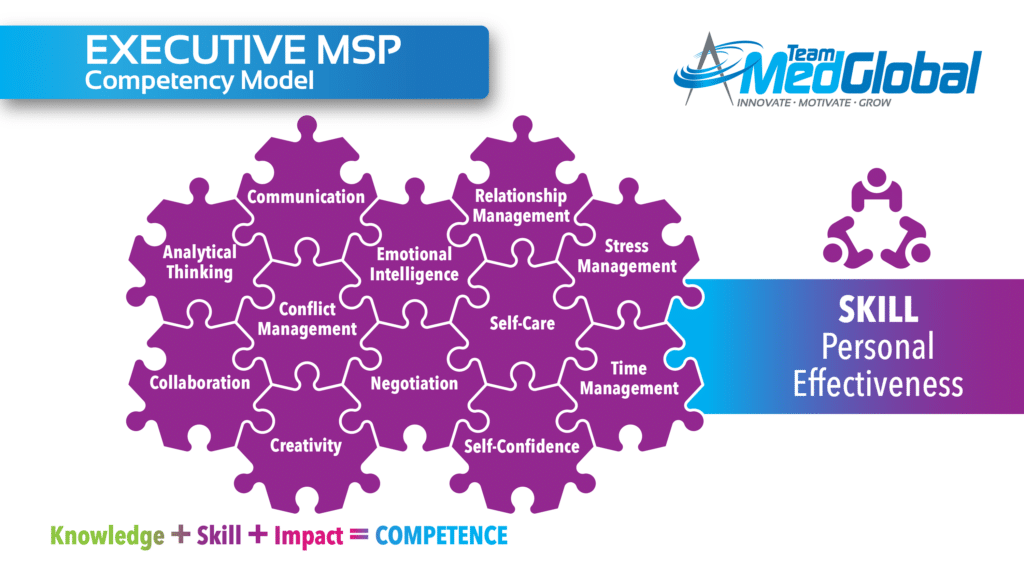 "Impact encompasses the skills an Executive MSP needs in order to give their career direction," Goestenkors said. "Those skills include everything from clear-eyed self-assessment and career planning to tangible items like a resume and professional portfolio."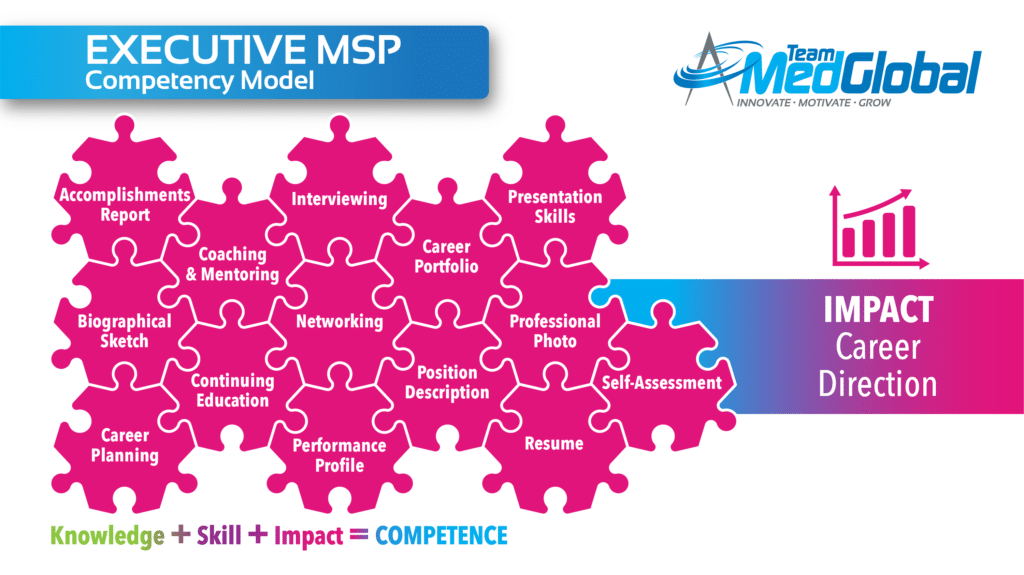 Team Med Global is committed to helping MSPs and Executive MSPs pinpoint and fill the gaps in their management expertise, personal effectiveness, and career direction. The organization achieves this through TMG University, an online learning environment that offers Executive MSP and Executive Payer Enrollment Professional certification programs, as well as design-your-own courses that meet the needs of the individual. In addition, Team Med Global offers a range of continuing education opportunities through three online webinar series: Doctor FBI, which focuses on MSP career development and wellness; Unstoppable, which centers on the psychology of empowerment; and The Core of Credentialing Excellence, which drills down into MSPs' central job function. For more information on Team Med Global's education initiatives, visit https://www.teammedglobal.com/msp-education/
For a complete visual representation of Team Med Global's Executive MSP Competency Formula and Competency Model, visit https://www.teammedglobal.com/emsp-core-competency/